Website Tracking
You can decide whether a web analytics cookie will be stored in your browser, to allow the operator of this website to collect and analyse various statistical data. You can change the setting by clicking on the button in the bottom corner.
Provider in terms of §6 GDPR
VAT identification number in accordance with § 27a of the German VAT Act:
UST-ID-Nr.: DE236 395 434
Responsible for contents according to § 10 paragraph 3 MDStV:
Anwendungszentrum GmbH Oberpfaffenhofen, Claude-Dornier-Straße 1, Building 401, 82234 Weßling, Germany
Data Protection Commissioner:
Datenschutzkanzlei Lenz GmbH Co. KG, Sven Lenz, Bahnhofstraße 50, 87435 Kempten, info@datenschutzkanzlei-lenz.de
Company Management
Dipl.-Ing (TU) Thorsten Rudolph (Managing Director)
Dipl.-Kauffrau Stefanie Herrmann (CFO)
Supervisory Board
Klaus Hamacher (chairman), deputy executive chairman of the German Aerospace Center (e.V.), Cologne-Porz, Germany
Rüdiger Stahl (deputy chairman), managing director of TQ-Systems GmbH, Weßling, Germany
Christoph Pfaff, Bavarian State Ministry of Economic Affairs and Media, Energy and Technology, Munich, Germany
Commercial Registry
HRB 150 549
Munich Municipal Court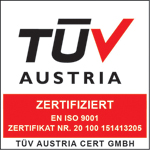 Telephone and Fax
Telephone +49 (0)8153 29 8 00-10
Telefax +49 (0)8153 29 8 00-55
Internet
www.azo-space.com
info@azo-space.com
Copyright ©2022 Anwendungszentrum GmbH Oberpfaffenhofen. All rights reserved.
Notice of Liability
Although the content of this website is carefully monitored, we assume no liability for that of external links. The content of linked sites is the sole responsibility of its respective Operators.
Privacy Notice
Download privacy notice of AZO Anwendungszentrum GmbH Oberpfaffenhofen.