WINNER ESA SPACE APP CAMP 2019
An app that will help wild fisheries achieve sustainable operations using Copernicus Sentinel-3 data took home the top prize at this year's Space App Camp at ESA's Earth observation centre in Frascati, Italy.
Following a selection from about 100 applications, 24 developers from nine countries attended the 8th edition of the App Camp.
The goal was to come up with innovative and off the beaten track ideas for apps using Earth-monitoring data – particularly from the European Copernicus programme – and make satellite information accessible to the everyday user through smartphones.
Each of the six teams had a week to create an app from one of five categories: smart farming, sustainable development, future living, smart cities and digital transport.
The week-long camp culminated with presentations of the six projects to a jury, followed by an inspiring presentation by ESA astronaut Paolo Nespoli who detailed his journey of becoming an astronaut and the importance of observing our Earth from space.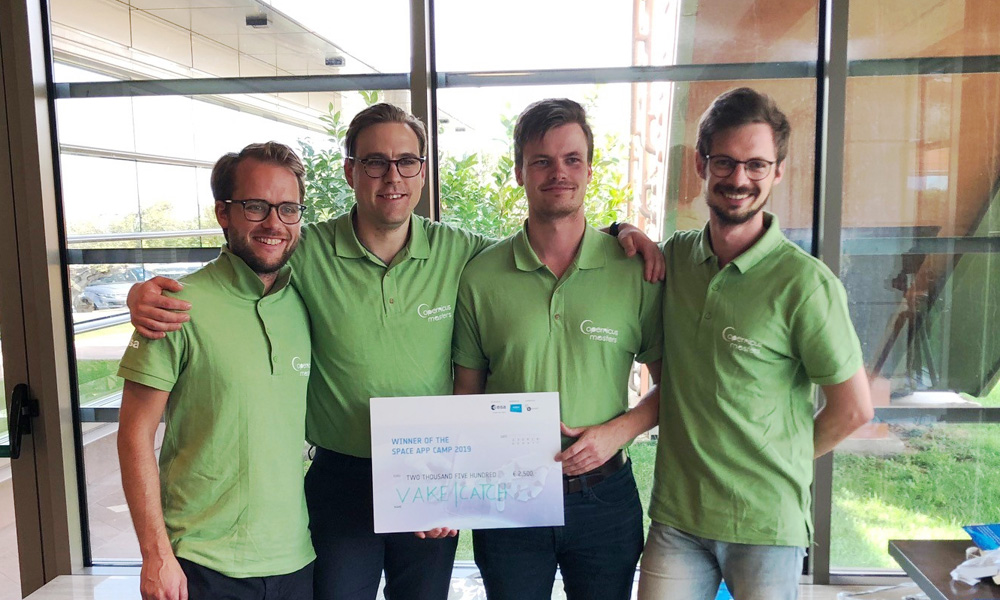 The Norwegian winning team, which was participating as winner of the ESA prize at the 2019 FOSS4G hackathon in Bucharest, developed the Vake | Catch App, which will help fisheries be more efficient and optimise catch quotas, as well as help governments stop unregistered and unregulated fishing worldwide.
Combining Copernicus Sentinel-3 data with actual numbers on catch in Norwegian waters will result in better visualisations and predictions on the correlations between chlorophyll and sea temperatures with how fish swim through the ocean and how abundant they are.
Adrian Tofting, one of the winners commented, "The project will complement and promote sustainable fishing – the app would be great for authorities to find where illegal fishing is taking place."
Lars Berg-Jensen, another winner, adds, "We are so grateful to participate in this FOSS4G challenge, which brought us to Frascati. We know ESA and the Copernicus programme well, and being here and meeting key people at ESA was a great opportunity."
The winners took away a cash prize of €2500 and all teams were encouraged to apply to one of ESA's Business Incubation Centres to develop their ideas further.
The first prize was awarded by ESA's Copernicus Policy Coordinator, Thomas Beer. He says, "I would like to thank everyone who made this happen. From all the App Camps I have seen, this one was exceptional owing to the overall quality of the ideas and the team spirit I experienced this week."
Other apps developed at ESA's Space App Camp 2019 included:
Ship Buddy, an app for small commercial vessel owners that gathers satellite-based data about environmental conditions along the route, current position, automatically reporting trip status back to the clients. Furthermore, it provides information on what services are available in ports on the way, allowing to optimize the necessary stops for maintenance and living purposes.
The greengold app aims to provide a certification based on Copernicus data which requires gold miners to meet rigorous standards on their environmental friendliness. It also allows jewelry customers to track and trace back were the certified gold was mined originally.
The team of the EyeRes is working with satellite images from Sentinel and enhancing the resolution with artificial intelligence. Based on their neural network training they improve the HR satellite images up to 2m.
Cooper aims to collect satellite data related to climate change and make it available and easy to understand. Users can share this information and explain how it affects them, by either creating a post in the built-in forum of the application or in any other social media platform.
Exerve (explore + observe) is a series of AI generated minigames using Copernicus data in a creative way that gives the opportunity to the user to have fun and be educated. Exerve comes both in a single player mode and a multiplayer couch mode using TV, ranging from puzzles to color games and quizzes.

Related links
ESA App Camp
AZO
Copernicus Masters
Sentinel-3
Copyright 2000 – 2019 © European Space Agency. All rights reserved.