The annual ESA Space App Camp initiated by ESA was established in 2012 jointly by the European Space Agency (ESA) and AZO Anwendungszentrum GmbH Oberpfaffenhofen. The goal is to come up with mobile apps using Earth observation data on mobile devices, in particular by leveraging the possibilities offered by the European Earth Observation Programme Copernicus.
Learn more about the successful winners of the previous years!
ESA Space App Camp 2019 – initiated by ESA, Frascati, Italy
An app that will help wild fisheries achieve sustainable operations using Copernicus Sentinel-3 data took home the top prize at the ESA Space App Camp 2019 in Frascati, Italy. The Norwegian winning team developed the Vake | Catch App, which will help fisheries be more efficient and optimise catch quotas, as well as help governments stop unregistered and unregulated fishing worldwide.


ESA Space App Camp 2018 – initiated by ESA, Frascati, Italy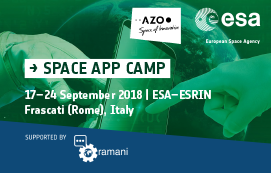 Urbansat aims to guide greener, more ecological urban planning. It provides a range of data for planners, including information on green spaces, terrain and biodiversity and more, all in one place and at an affordable price. The app's map interface has a drag and drop feature, which would allow users to compare scenarios pre and post build for their construction projects, through the generation of relevant data, largely derived from Sentinel satellites.


ESA Space App Camp 2017 – initiated by ESA, Frascati, Italy
AiR is a travel app for iOS devices developed by Bristol based development team Limoncello. It aims to use Augmented Reality to take flyers out of their seats and into the sky. Data from the ESA's Copernicus Satellite program is used to display an interactive projection of the world to the user, letting them see information about the cities and landmarks they pass over during their flight, without the disruptions of clouds or the plane getting in the way.


ESA Space App Camp 2016 – initiated by ESA, Frascati, Italy
The Saturnalia team's application provides an innovative platform for evaluating the quality of wine, benefitting the users as well as wine investors and distributors. The innovative application combines Sentinel data and meteorological data to provide the appropriate information to assess wine quality for its users.
ESA Space App Camp 2015 – initiated by ESA, Frascati, Italy
GAIA: This app is proposing the use of satellite data for agriculture, matching areas of interest with possible diseases.
This would allow farmers to benefit from early warnings, for evaluating crops at risk.
Lukas Böhler, Pablo Garcia-Nieto Rodriguez, Pascal Weinberger, and John Zachilas

ESA App Camp 2014, Frascati, Italy
WaterSense: Using satellites for improving the exploitation of water resources
Brian Frølund, John Nielsen, Manuel Ciosici, and Mikkel Kringelbach


ESA Space App Camp 2014, Noordwijk, the Netherlands
FieldSense: helping farmers visualise up-to-date crop health data
Brian Frølund, John Nielsen, Manuel Ciosici, and Mikkel Kringelbach


ESA App Camp 2013, Frascati, Italy
Thermal Guidance System uses satellite data to detect areas of high thermal updraft – rising air currents that are responsible for keeping the planes and gliders aloft.
Evangelos Georgiou, Ulf Küssner, Erik Unger, and Jip van Akker


ESA App Camp 2012, Frascati, Italy
ShareAware aims to interconnect people concerned about the environment to understand, learn about, be prepared for or react to various events or remote sensing results.
Stanislav Sumbera, Helge Staedtler, Ognen Ivanovski, and Hannah Kaufmann