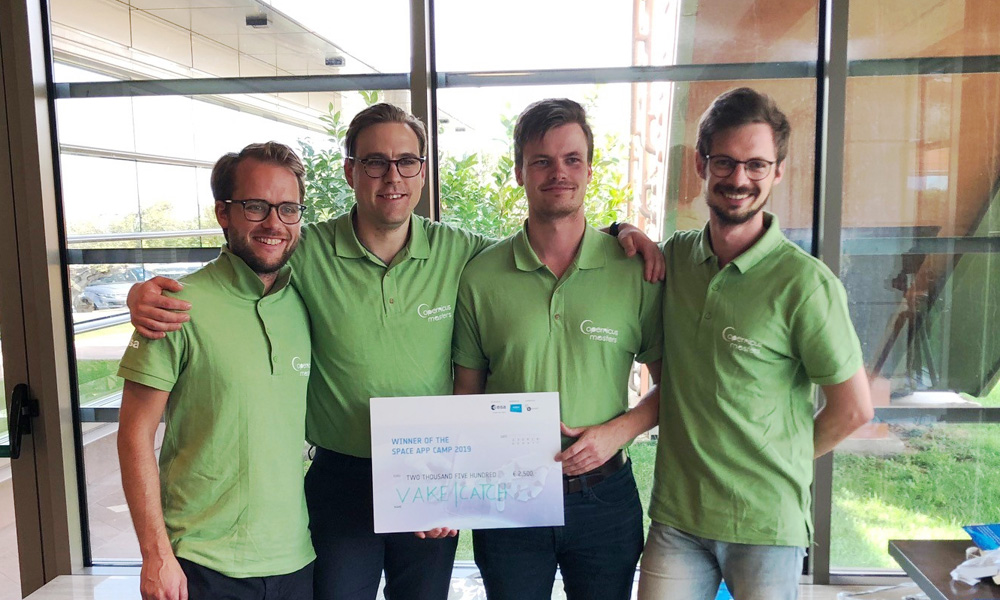 Congratulations to the winner of the eighth edition of the Space App Camp!
This year, an app called Vake | Catch will help wild fisheries achieve sustainable operations using Copernicus Sentinel-3 data took home the top prize at this year's Space App Camp at ESA's Earth observation centre in Frascati, Italy.

BE 1 IN 24

GET INSIGHT

DEVELOP APPS USING EO DATA

Dedicated API for EO data

The winning team will be rewarded
Increasing numbers of mobile phone users is bringing mobility to the business with mobile apps. Additionally, a huge amount of data from space offers countless opportunities in connection with mobile applications.
But hang on a minute – isn't the European Space Agency a bunch of astronauts and rocket scientists? What does ESA have to do with mobile app development? A lot! From space, our planet's atmosphere, land, and water can be monitored for multiple application fields. This is where the ESA Space App Camp comes in: It's a chance to make the resulting information accessible to a broad audience and create value in the process!
For the 8th time, ESA was inviting 24 developers to its ESRIN location in Frascati, Italy, including travel expenses and accommodation. The participants of the App Camp were selected depending on the creativity of theirprevious works with regard to content, usability, design, and underlying business concepts.
The App Camp is an awesome opportunity to meet with like-minded people, create mobile applications using satellite data, and gain insight into ESA's work!
The goal of the ESA Space App Camp is to produce mobile apps using Earth observation data on smartphones. In doing so, it focuses on leveraging the possibilities offered by the European Earth observation programme Copernicus, which is currently providing became operational with the launch of the first Sentinel Satellite in April 2014 and today already provides data from seven satellites. The latest member of ESA's Earth observation satellites, Sentinel-3B, was successfully launched on 25 April 2018 from Russia. Two weeks later Sentinel-3B has already delivered impressive first images from its ocean and land colour instruments. The oceans are the main focus of the mission. In addition, large-scale changes in land areas are also monitored and recorded.

Smart farming
Sustainable development

Future living

Smart Cities

Digital transport
After a week of intense teamwork in your selected category, the teams were presenting their app to the other participants and a jury of ESA representatives on the final day of the ESA Space App Camp. The jury was then selecting the winning team and presented a EUR 2,500 cash prize.