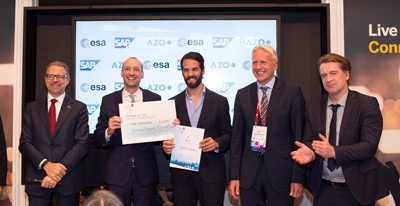 SnapPlanet App Wins Top Prize at Space App Camp
Developers of an app that combines the increasing availability of satellite images with social networking took home the top prize at this year's Space App Camp in Barcelona.
more
Huge amounts of data from space – the kind produced by the European Earth observation Copernicus programme and its Sentinel satellites – offer countless opportunities in connection with mobile applications and a multitude of services use cloud computing for processing.
The Space App Camp Barcelona initiated by the European Space Agency – European Space Research Institute (ESA ESRIN), sponsored by SAP, and organised by AZO Anwendungszentrum GmbH Oberpfaffenhofen, seeks to combine both technologies.
With ESA's latest Satellite data from the Copernicus Space programme and the supporting technology of the SAP HANA Cloud Platform (HCP), participants have the tools they need to get the most out of this Earth observation data.
Together with the SAP HANA Cloud Platform, and its unmatched capability to process big data in high speed and its built-in geospatial functionality, it is the natural choice for running EO applications.
Five teams from all over Europe were selected by an expert jury and invited to participate in the Space App Camp Barcelona 2017.
After a public pitch of all teams on 27 February on the Mobile World Congress, the expert jury consisting of Martine Heuff, Global Digital Program Leader Commercial Sales; Carsten Linz, Head of CIO Center for Digital Leadership, SAP; Pierre-Philippe Mathieu, Earth Observation Applications Engineer, ESA ESRIN; Thomas Beer, Copernicus Policy Coordinator, ESA-ESRIN; Thibaud Delourme, Team Leader, European Commission; Thorsten Rudolph, Managing Director AZO Anwendungszentrum GmbH Oberpfaffenhofen selected  Jérôme Gasperi with his mobile application SnapPlanet as the winner of the Space App Camp Barcelona 2017.
26 Februrary
Arrival at the hotel

26 February to 2 March
App Camp


28 February
Awards Ceremony

2 March
Departure
To set an example of how SAP helps companies anticipate digital transformation and innovation, SAP's Center for Digital Leadership drives digital platform-based innovation in an open ecosystem with start-ups, student teams, and SAP corporate entrepreneurs. Our team also guides and showcases SAP's own digital transformation to more than 150 CxO customers per year, especially Chief Executive, Financial, Information, and Chief Digital Officers (CEO, CFO, CIO, CDO).